Father's Day 2019 is this Sunday. To celebrate, we've compiled our list of the top TV dads you can binge-watch.
This Sunday, September 1 is Father's Day 2019 in Australia and New Zealand. It's a day to celebrate the paternal love in our lives and—with our list of the top TV dads—whittle away the hours with some compelling television.
Phil Dunphy (Modern Family)
Phil Dunphy—the cool dad, king of puns, and author of Phil's-osophy—is everything anyone could want in a TV dad. He adores his entire family unabashedly, and loves his three kids—Haley, Alex and Luke—unashamedly.
Whether he's trying to impress his kids with how cool he thinks he is (but without a doubt isn't), setting an example to always be yourself, or just telling them how it is (with a smidge too much honesty), Phil would do anything for his children.
He'd definitely even help his kids get through a 'scary' movie like Ghostbusters—which he's seen "like seven times."
BEST DAD MOMENT: When Haley is dating the much older Kenny in the episode Party Crasher, Phil and Claire are conflicted about how to handle it. Claire convinces Phil to ignore it, suspecting Haley is just doing so to get a rise out of her parents.
But when the stand-off goes too far for Phil to handle, Haley accidentally overhears her father's declaration that "no guy on Earth is good enough for her, much less a slimy middle-aged jeans salesman!" A perfect father/daughter hug is the end result. Awww!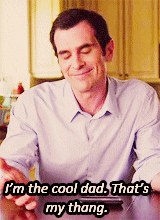 Image: giphy
Homer Simpson (The Simpsons)
The longest-running (and yellowest) TV Dad there is, Homer Simpson may seem like an odd choice.
Yes, he's a bumbling buffoon who seemingly cares more about football than his three kids: Bart, Lisa and Maggie. And, yes, he may have once given his children the following advice: "You tried your best … and you failed miserably. The lesson is: never try."
But for every bit of terrible, child-losing and therapy-inducing bit of parenting Homer does, he matches it with his undying commitment to his offspring. He loves having fun with them and will stop at nothing to cheer them up when they're sad.
Whether it's giving Lisa a 'vege-back ride' instead of a piggyback ride when she becomes a vegetarian; or helping Bart escape from 'a booting' in their visit to Australia, Homer always comes through … eventually.
BEST DAD MOMENT: In the episode And Maggie Makes Three, Bart and Lisa wonder why there are no pictures of Maggie in the family photo album. Homer reveals that with Maggie's birth, he was forced to give up his dream job at the bowling alley. He returned to work at the nuclear power plant so he could earn enough money.
In an act of spite, his boss Mr Burns installs a "de-motivational plaque" that reads: "Don't forget: you're here forever."
Bart and Lisa, confused by the connection, ask Homer again why there are no pictures. Homer replies: "I keep them where I need the most cheering up." The shot then transitions to the photos of Maggie strategically plastered all over his wall at work.
Marty Crane (Frasier)
The father of Frasier and Niles is the epitome of a Dad who's incredibly different to his sons but doesn't let that stand in the way of their relationships. He's the beer-swilling, sports-watching, ugly chair-sitting polar opposite to their opera and wine tasting—and yet there's nothing they wouldn't all do for each other.
The most pivotal part of the Crane connection is the honesty they are not too shy to express. Frasier and Niles—busybodies that they are—are always trying to help with the trauma of Marty's loss of his wife, or his time as a cop. And Marty never hesitates to tell his sons when they're being snobs (which is, well, a lot).
BEST DAD MOMENT: While Marty, Frasier and Niles have little problem being honest with each other, in the episode Breaking the Ice it comes to a head that they've never been particularly adept at saying "I love you."
Frasier and Niles witness Marty easily telling his beloved dog Eddie that he loves him. This prompts them to accompany him on an ice fishing trip to see if they can get it out of their father.
After plenty of awkwardness while trying to say the three little words—and even the question "Would it be easier if we left the room?" from Niles—Marty finally says it properly. The moment is simple and sweet, with both sons reciprocating the words before Niles adds: "But I hate ice fishing."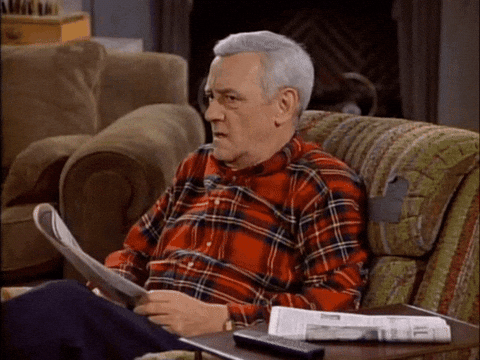 Image: giphy
Philip Banks (The Fresh Prince of Bel-Air)
To many, he's probably better known as "Uncle Phil". But, without doubt, the father to Carlton was just as much a father to Will.
When the Fresh Prince's "life got flipped-turned upside down" he is sent to live with his extended family in Bel-Air. But he gets far more than just a safer neighbourhood where he can concentrate on school; he gets a family who loves him and a surrogate father who would do anything for him.
Philip's frustrations with Will create comedy gold, but the touching moments they share together hit you right in the feels.
BEST DAD MOMENT: The episode Papa's Got a Brand New Excuse has arguably the most emotional scene of the entire series. Will's real father Lou finally comes back into his life—and it seems as if Will's world is finally complete.
But Lou suddenly indicates he has to leave yet again. Will farewells his father by referring to him in name only—rather than "Dad". He then insists he doesn't need his genetic father, before a final teary-eyed question to Phil: "How come he don't want me, man?"
Phil doesn't hesitate to pick up the pieces. He embraces Will in a hug and symbolically transitions from uncle to father.

Who's on your list for the top TV dads? Let us know in the comment section below! And if you're looking for something else to watch with the kids then check out our article on the top ten Netflix options for kids.